Centro Librexpression
Fondazione Giuseppe Di Vagno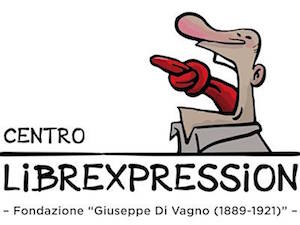 Created in January 2017, operational since June 2017, the Centro LIBREXPRESSION is a Euro-Mediterranean Center for the promotion of freedom of expression and political satire.
Target: to promote freedom of expression, freedom of the press and political satire - an indispensable tool for democracy -, particularly graphic, but not only, as a relevant form of information and to develop its use, both in teaching and in various media (newspapers, audiovisuals, social networks) and in the field of graphic art.
A Scientific Council, composed of cartoonists, photographers, journalists, university specialists in matters related to freedom of expression, ensures the consistency of the activities.
Organization: The center is organized around five pillars, which should all be fully operational by 2020:
1 - An activity to promote freedom of expression and political satire (ongoing activities), with the organization of public conferences, participation in journalism or cultural festivals, radio and TV broadcasts, thematic exhibitions. This activity started in June 2017. (See the list in the annex).
2 - A database of vignettes, illustrations and photographs (under construction), to promote the work of the members of the Centro LIBREXPRESSION (cartoonists, graffiti artists, illustrators, photographers ... who are Italian, European and on the other side of the Mediterranean) - on the subject of political and social satire - at the media, the teachers of high schools and universities, journalists, writers ... This database will take up the works chosen by the members, classified both thematically and by author, with a search engine. This bank will allow potential users to find illustrations for their articles, video broadcasts, site illustrations, books, teaching, etc.
3 - A documentation center (started), physical library (at the Di Vagno Foundation) and virtual, on the theme of freedom of expression, satire and political caricature (on all its forms and particularly graphic), from antiquity until now. It will be a department of the Foundation's library, which already has hundreds of publications on this topic. Collections of historical satirical cartoons will be scanned, with indications of copyright, accessible only in reading and not downloadable, but, with the possibility of publication for those who would like to acquire their reproduction rights.
4 - A residence for artists (project), located in Monastero San Benedetto in Conversano. Between two and three months, between four and six artists will be invited, half of the European destination - half of the other side of the Mediterranean, to dedicate themselves to their art. In exchange they will have to spend some time at conferences, workshops and artistic work on the region.
5 - An educational activity (in progress): The center intends to produce in collaboration with European partners sharing similar objectives and philosophy of action, of training modules (usable both live and via internet) for the attention of students of high schools, professors and university students, particularly design schools, on the theme of freedom of expression (what it means, what are the rights and duties, how to look for and verify the information, the dangers and the merits of the network, how to read an image, etc.)
Registered office:
Centro LIBREXPRESSION
Fondazione Giuseppe Di Vagno (1889-1921) - ONLUS
Via San Benedetto, 18
I-70014 Conversano (BA) - Italy
Director: Thierry Vissol
Phone: +39 331 190 73 70
Scientific Council:
Thierry Vissol, economist and historian (FR/IT) - Filippo Giannuzzi, Secretary General of Fondazione Di Vagno (IT) - Gian Paolo Accardo, journalist (IT/Nl) - Dino Aloi, cartoonist and editor (IT) - Jordi Artigas, journalist (ES) - Pierre Ballouhey, cartoonist (FR) - Niels Bo Bojesen, cartoonist (DK) - Mario Calligiuri, Professor of new technologies and intelligence (IT) - Jaume Capdevila, aka "KAP", cartoonist (SP) - Paolo Caprettini, Professor of semiology (It) - Marina Castellaneta, Law professor (IT) - Marianne Catzaras, photographer and poet (GR/TUN) - Carl Henrik Fredrikssen, journalist and writer (SWE/AUS) - Carlo Gubitosa, IT specialist, journalist, stage designer and publisher (IT) - Khalid Gueddar, cartoonist (MOR) - Ilaria Guidantoni, journalist and writer (IT) - Veronica Leiner, finance specialist (AUS) - Fabio Magnasciutti, cartoonist and teacher (IT) - Ramses Morales, cartoonist (Cuba) - Marilena Nardi, cartoonist and teacher (IT) - Tawfiq Omrane, cartoonist (TUN) - Cesare Preti, docente di filosofia (IT) - Kianoush Ramezani, aka "Kianoush", cartoonist (Iran/FR) - Tjeerds Roynards, cartoonist (Nl) - Assunta Toti Buratti, cartoonist and teacher (IT) - Gianfranco Uber, cartoonist (IT),
Media Partners (until october 1st, 2017)
- Voxeurop, www.voxeurop.it  (European multilingual information site) ;
- Fany Blog, www.Fany-blog.blogspot.it  (Italian blog dedicated to satirical cartoons)
- Eurozine, http://www.eurozine.com (European network of cultural newspapers)
- Buduàr, http://www.buduar.it (Italian online almanac of light art)
- Fenamizah, www.fenamizah.com (Turkish magazine of international humor)
- Il Pennino, www.ilpenninodinoaloi.it (Publishing house specialized in humor and satire)
Organizzazioni partners (until october 1st, 2017)
- Cartoon Movement, https://www.cartoonmovement.com  (Hol)
- France Cartoons, http://www.france-cartoons.com (FR)
- United Sketches, https://unitedsketches.org (FR-Iran)