Communication
Your customized image
Il Pennino traditionally works in publishing sector designing producing books and catalogs related to the world of humor and satire and likewise it designs and carries out shows and exhibitions producing all required for mounting and for external communication.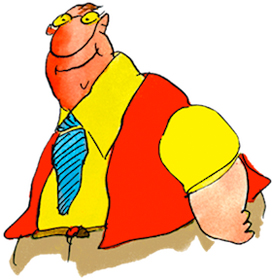 Through twenty-years activity Il Pennino production has found applications in many sectors: institutional, directed to public institution and foundations, artistic, educational, health, services, sport and promotion of specific local production or business.

Il Pennino is also a graphic design studio offering the most appropriate and effective communication  solutions, for advertising or other purposes, able to disclose in effective and distinctive way all products, services and corporate image of its customers.

On demand, this can be achieved by the work of the best Italian humorists and illustration artists:
Traditional products suitable for personal or corporate image communication such as business cards, letterhead, coordinated image, brochures, leaflets and flyers, posters, labels and packaging, etc.


Stickers, banners, totem, shapes in different materials.


All kind of gadgets, specially designed or customized games, 3d models of large dimensions too.


Multimedia solutions such as audio-visual, networking and interactive products on CD and DVD.


Cartoons, vignettes, caricatures and illustrations, mascots.


We are always available to provide information and answers to any particular request at: